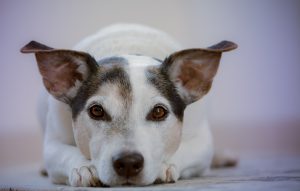 Natural disasters can occur anywhere, so it is important that the whole family is prepared – pets included. If it is not safe for you to stay in your home, it is not safe for your pet either, do don't leave them behind. Planning ahead is essential so that you know you have the right plans and supplies in place to keep your pet safe. September is National Disaster Preparedness month and a great time to ensure you're ready.
Before a disaster strikes:
Prepare ahead of time for natural disasters. This means keeping your pet's identification and vaccinations up to date; having your dog microchipped can also be helpful. Keep copies of their medical records in a waterproof container to take along with you.
Do some research and locate shelters, hotels, and other facilities that allow animals in the event of an emergency. Not all emergency shelters take pets. Talk to family and friends that live outside of the area as well to see if you can evacuate there and bring your dog, cat, or other animals. Make arrangements to have someone who can get your pet for you if you're not home so that you know they'll be safe.
Pack an emergency kit for your pets just as you would the rest of your family. Have several days' worth of food and water available, any medication they may be on, some toys and blankets, an extra leash, plastic bags and cleaning supplies, disposable pans and litter for cats, and recent photos of your pet in case you are separated. Clearly label their crate with contact information.
If sheltering in place:
If you are not evacuating and are instead sheltering in place, keep your pet with you. Do not leave them outside or roaming around your home. They should be kept close by with all of their emergency supplies. It can be a good idea to keep them on a leash or in their crate until danger passes in case they become scared or spooked during a storm.
After a disaster:
Before you allow your pet outside, check for any potential dangers such as downed power lines, broken glass, or other debris. Keep dogs on a leash as they may become disoriented because familiar surroundings and scents have changed. Find a safe space for them while you clean up so they won't get in to trouble or run off.
Make sure you check with your local boarding facility to see how they handle natural disasters and emergency situations. They should have a plan in place as well to keep animals in their care safe. If you're headed out of town – emergency or not – rest assured that your pets will be in good hands at Lake Wylie Pet Resort. Contact us today to learn more.