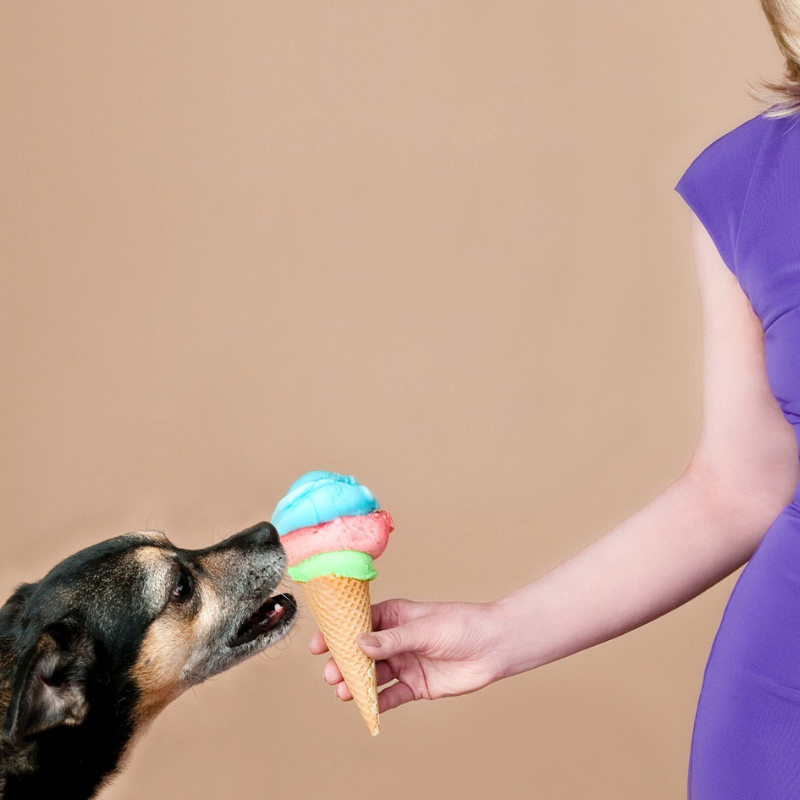 As temperatures heat up, everyone is looking for ways to cool down – including your dog! While it's a good idea to stay inside during the hottest part of the day, even mornings and evenings can be toasty, and sometimes you just have to be out in the afternoon. Aside from letting your dog run in the sprinkler or take a dip in the pool, there are other ways to help him or her cool down too; like tasty frozen treats!
Keep in mind, as with all snacks, these should be given in moderation. But here are a few simple treats you can whip up to keep in the freezer for your dog.
Ice cubes: plain and simple, just clean frozen water can be a perfect snack. (And unlike the others, there's not really a limit to how many they can have.)
Frozen fruit: Pop some strawberry slices, blueberries, watermelon, or banana slices in the freezer.
Coconut oil: Soften some coconut oil until you can mold it into small balls or pour it into a silicone mold. Add in some blueberries (or other frozen pieces of fruit) and let it freeze.
Frozen yogurt: Plain Greek yogurt can be a great treat, just make sure that it doesn't have artificial sweeteners. You can freeze the yogurt plain, or blend it up with frozen fruit or a bit of peanut butter (but make sure it doesn't contain xylitol). Add a bit of water if it's too thick.
Frozen peanut butter: Once again, make sure it is xylitol-free, but you can freeze dollops of peanut butter plain, or stuff some into a toy such as a Kong and freeze it for more fun.
Frozen herbs: Freshen up your dog's breath and help their digestion (while also boosting their health) by blending together some plain yogurt, fresh parsley, and fresh mint, then freezing it in an ice cube tray or silicone mold.
Chicken stock: Buy some low-sodium chicken stock or broth, pour it into an ice cube tray, and freeze for a tasty treat.
Pre-made treats: You can also check out the freezer section at the grocery store for items such as Frosty Paws which are made specifically for dogs. Some ice cream and coffee shops also offer dog-friendly frozen treats!
Be creative and have fun! A quick Internet search will turn up plenty of recipes to try. Just make sure whatever ingredients you use are safe and non-toxic for your dog.
Keep your dog cool this summer with frozen treats and a comfortable place to relax. If you're going to be away, consider boarding them at Lake Wylie Pet Resort. They can play with other dogs and rest in their own air-conditioned pet suite. Contact us today to sign up!