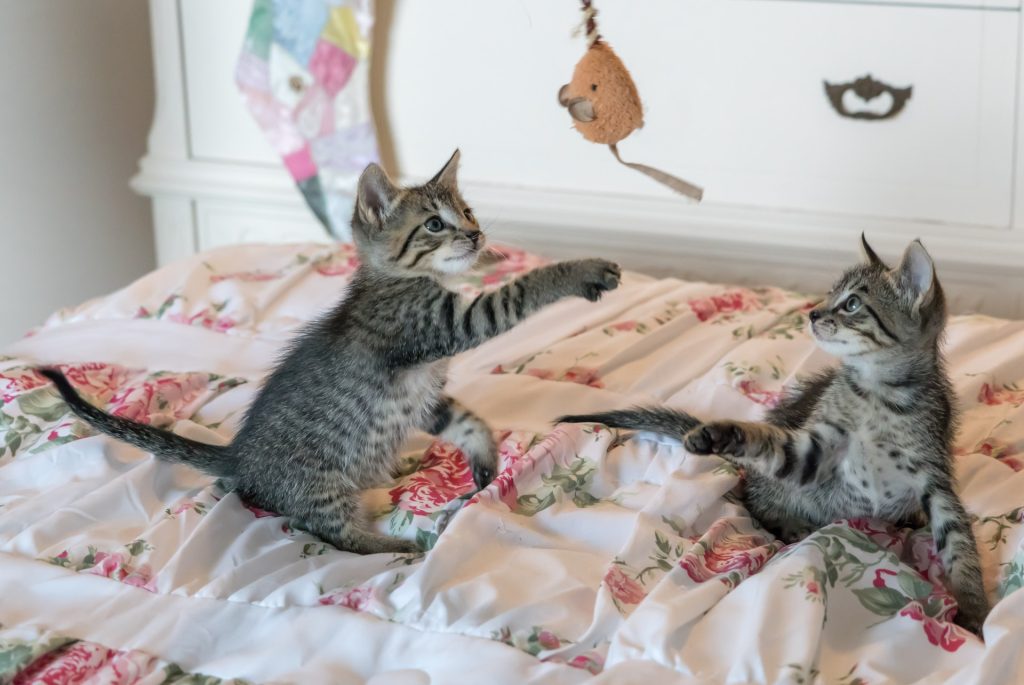 While your cat may seem like he enjoys sleeping more often than not, he probably also takes some time each day to play with various toys and run amok through your house. Cats often get a burst of energy where they want to be active and play during the day, especially when they are younger. However, just like kids, they can become bored playing with the same toys over and over again.
The good news is, you don't have to spend a fortune on cat toys. There are plenty of fun toys you can make from ordinary objects around your home. Here are just a few ideas for sprucing up your cat's toy collection and giving them something new to get excited about:
1. Everyday items. A ball of paper. A sparkly pom-pom. A paper bag. A cardboard box. These items can all provide hours of entertainment for your cat. It's amazing how quickly they'll pounce on something you've dropped on the floor and bat it away. Cut some holes in a larger cardboard box and let them crawl in and out and over and through.
2. A fishing pole. Use a dowel rod (or even a stick from the yard) and tie a piece of string on the end. Attach some feathers or pieces of yarn to the other end of the string and watch your cat go wild chasing it around as you pull it up and down or swing it side to side.
3. Toilet paper tube toys. Use an old toilet paper tube and glue on some pom-poms, or stick some straws or pipe cleaners crossways through it. You can also put a few treats inside and gently fold the ends closed for a tasty surprise. Make sure the ends aren't sealed too tightly so when your cat bats the tube, a treat pops out.
4. Fabric knots. Cut up an old t-shirt or other scraps of fabric and tie them into knots with small tails on each side. Your cat will love to bat them around and chew on the ends.
5. Catnip toys. Put a bit of catnip in an old sock and knot it closed. You can tie some pieces of yarn on or twist a few pipe cleaners around where you knotted it for some extra appeal. If you're handy with a sewing machine or needle and thread, you could also sew a small pouch to put some catnip inside.
6. Crinkly toys. Grab a sock or sew a tube of fabric and stuff it with a bit of tissue paper, packaging paper, plastic wrap, or something else that crinkles and makes noise. Your cat will love hearing it rustle as they wrestle, bat, chew, and pounce on it.
Cats can get a lot of enjoyment out of simple items from around your home. A little creativity can provide hours of fun and some mental stimulation. When you're not around, your cat can still play independently and keep themselves entertained. If you're going to be gone for a few days, pack up your cat and some of their favorite toys and board them at Lake Wylie Pet Resort. They can enjoy their own space in the Cattery with their toys and the attention of our caring staff. Contact us today to schedule your cat's next stay!